Band Members

---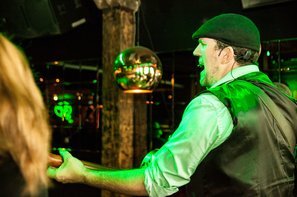 Stephen Lamb - Vocals, guitar
With heritage tracing back to Enneskillen, Ireland, and with a father who created a cassette tape of Irish music and played with a group called the Molloy Show Band, there is no cookie-cutter description that can be given to this songwriter's contributions. With influences from several musical genres and decades, and a passion for writing, he creates clear imagery and elicits emotion through vivid and imaginative storytelling within his original songs. Taught guitar by his father, he has been singing in front of crowds for decades. His voice has been described as deep, warm and powerful.

---
---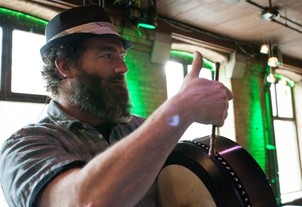 Scot Allan - Drums, Bodhran, Vocals, Percussion
Scot's strong, comical personality is a force to be reckon with - matched only by his talent on percussion and love of Celtic music. According to Scot, "I took a few drum lessons long ago and found my way around a kit". Scot uses an open-armed, contemporary grip. When not telling jokes, Scot adds character to many songs with his vocal contributions. He has ties back to Kirkcaldy, Scotland and is primarily associated with Clan Ranald of the MacDonald Clan (i.e., Clan Donald), but also with Clan MacFarlane, Clan MacKay, and Clan Grant.

---
---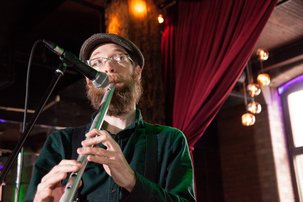 Matti Palonen - Double bass, Tin Whistle, Kantele, Vocals
A multi-talented musician, Matti adds
a playful tin whistle and a highly energetic
performance on double bass. Some truly beautiful harmonies are created when he adds his tenor vocals, and his songs performed on the Kantele are both haunting and reflective. Through his years of experience playing reels and jigs, combined with a folk background, he seamlessly transitioned into Old Man Flanagan's Ghost after his arrival in 2014. Utilizing his background in science and lutherie, Matti designs and creates Kanteles as a
luthier
in Toronto
.
---
---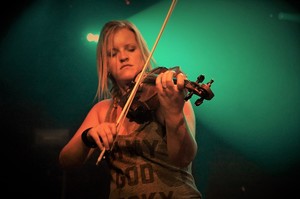 Bexy Ashworth - Fiddle, Vocals
After watching Itzhak Perlman perform on Sesame Street, she began studying violin through the Suzuki Method at age 4 and a half, competing in Kiwanis competitions at the provincial level. At 16, she was accepted into the University of Western Ontario Symphony Orchestra, and received her B.F.A in Music Performance from York University in 2007. She currently teaches at multiple Suzuki schools, and is a member of the charity fundraising initiative Ceol Kids
www.ceolkids.com
, that has raised over $40,000 for the Regent Park School of Music. She has performed at many great Toronto establishments including the Horseshoe Tavern, the El Macambo, the Kathedral, Healy's, the Air Canada Centre, Mtv Canada with Kanye West, and recorded on many projects, including the Juno nominated Big Yellow Tunes by Splash 'n Boots.
---
---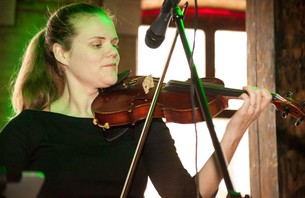 Brooke Richardson - Fiddle, Vocals
An accomplished violinist and fiddle player, she began training in the Suzuki method at age 6 and was playing for crowds by the age of 9. Her playing often silences the audience, drawing their attention, and is considered the highlight of many a show. With a soprano voice and step-dancing in her arsenal, she brings the live performance to a whole new level (Yup, a real one-trick pony). Her great grandparents hailed from both Belfast, Ireland and Aberdeen, Scotland.

---
---