December 19, 2016
Happy holidays Flanagan followers!
We have some announcements to make, so take a break from the 9-5 for a moment and have a listen. First off, what a great year it's been. We had the chance to play at some great Toronto venues including the
Harbourfront Centre
and
Nathan Phillips Square
(as part of the 2016 Canada Transplant Games), the 71st annual Rosedale Mayfair, and enjoyed our 3rd year at The
Beach Celtic
Festival and at the
Pickering Village JAMFest
. With getting to play shows along-side some great indie Celtic bands, including
Erin's Marlore
and
Madman's Window
as part of our independently run Celtic Music nights held every 3-4 months, and with much kindness shown from supporters of Celtic music, including
67 Music
(who constantly likes and shares our posts, and included us in episode #5 of
The Celtic Music Journal
), Cashbox Canada Magazine/Television for interviewing us, and Marc Gunn who included us in several episodes of the
Irish & Celtic Music Podcast
, it has really been a thankful year for us. Of course, we can't NOT mention the additional air-play both locally, and internationally, courtesy of the
Eclectic Celt
at
Limerick City Community Radio
, or the wonderful folks we have met and/or played for at the numerous pubs including public and private shows at
Fionn MacCool's
,
Irish Times
,
Whelan's Gate
,
The Céilí Cottage
,
The Corner House Irish Pub
,
Imperial Pub
,
Brazen Head
, and more. Topping it all off were the numerous private gatherings, including weddings, birthdays, family reunions, corporate events, etc., where people invited us to share in some very special and personal events. We are touched and grateful, so thanks to all!
Our 2nd album, though delayed, is under way in the recording studio, and while there is much work left to do, we thank all the financial contributors once again (FYI - we have emailed you in order to arrange drop off of additional perks and have already commenced deliveries), and all our fans in general for the support of our independent efforts by both showing up at shows and/or purchasing our first CD "Sociable!" either digitally or in hard copy. We think the 2nd album will be a fun, energy-driven exploration of the many influences that make up our OMFG sound.
All that said, you will also be seeing some changes in the band make-up in 2017. As some of you have witnessed first hand, the wonderfully talented Rebecca Ashworth on fiddle has stepped in on several occasions for Brooke this past year. Our multi-talented Brooke is finishing a Ph.D., and will be devoting some necessary time towards it's completion in the new year. In this regard, Bexy (Rebecca) is becoming a full-time member of the band, and will be taking on the lead fiddle duties at all our upcoming shows. We know that many of you are HUGE fans of Brooke, but FEAR NOT! For those yet to hear Bexy, she and Brooke have been playing together for most of their lives, and Bexy does some stuff on a fiddle that is CRAZY, even by Brooke's standards! Furthermore, Brooke is remaining a member of the band, and you can expect to see both fiddlers together on stage at several shows this upcoming year (and when they play together it is really something to see and hear). Another change coming in 2017 is our keyboardist, Bryan, is stepping away from regular shows for the immediate future to pursue other interests, and we wish him well. Don't be surprised if you still see him too though, as he will remain a part of the band in a more occasional capacity. In case you missed it before, here is a link to watch the band as a four-piece, with Bexy on fiddle from a recent show.
https://www.youtube.com/watch?v=lx5NzygX93w
With these changes come extra work, additional rehearsals, new repertoire, administrative updates, etc., and so we are leaving a good chunk of January and February to devote to recording and creating a great new live show experience for all our fans. We will update our upcoming events over the next few weeks (please subscribe to our FB events listings to get updated when new shows are added), and on our website where you will see many shows already popping up for March and beyond, including a return of our Celtic Kitchen Sessions!
We are really looking forward to what 2017 holds for us, and we hope you do to. Stay safe, enjoy the holidays, and thanks for reading…now back to work ya go!
;)
Cheers!
OMFG
Aug 7, 2016

Wow, has it been that long since we updated our news!!! Geez, sorry folks. Let's see, we are well under way in the pre-production of our sophomore album and ran an indiegogo campaign to help fund it. Thanks to all those who donated for helping us reach about 25% of our costs. With that in mind you will see we have a pretty light fall schedule to allow for some time to get into the studio to record! We played a couple of the songs off that new album live for the first time last night at The Irish Times Pub, "Wandering Free", and "The Water Hole", to enthusiastic applause so we feel like we are on the right track.

Tomorrow we play just before the opening ceremonies begin for the 2016 Canada Transplant Games being held in Toronto. Catch us at Nathan Phillips Square at about 6:40pm for a couple songs before the provinces enter. Exciting!

Aside from that we have had an eventful summer with one highlight being our performance at The Harbourfront Centre in July 2016. We feel like OMFG is starting to turn a few heads and get a little bit of a reputation as being not just a good band that crowds seem to enjoy, but also as being a bunch of nice folk that are easy to work with (according to sound techs). That might well be the most important stuff for us to hear.

Looking forward to the future, and we hope you are there with us Flanagan followers!

Cheers!
OMFG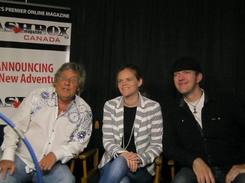 May 9, 2016

Busy, busy, busy! Perhaps one day we will have a team of people helping with the daily 'stuff' that needs to be done for the administrative management of the band. Until then though, it's just wee little old us, so let me start by apologizing for not posting new-news sooner. ;)

We have several new shows added to our 2016 season, so flip over to the live show page and have a peek. There's bound to be a show that will allow you to come out and see us, and we'd love to see you!

Just this past weekend, Brooke and Steve swung by Cashbox Canada's booth during CMW to be interviewed as part of Cashbox's new television undertaking. We got to sit down with Country singer/songwriting veteran Don Graham for a live streamed interview. We talked a bit about the band, upcoming shows and our sophomore CD plans, and it was a blast! We are particularly excited about the new CD plans and feel that our next offering will demonstrate a real growth in sound and composition, while continuing to incorporate east coast and Celtic sounds into our own unique folk-based music from an Ontario perspective. We hope to finalize our song choices and begin production in the summer.

We invite any fans that take photos or video of us to either send them to us or tag us on FB or Instagram, or Twitter, or on whatever Social Media thing you're using these days. We'd love to see them.

Outside of that, the weather is turning warmer here in Toronto, summer is right around the corner, and there is a feeling of being a little de-stressed with the every day going-ons. We are staying busy with the band while keeping our families and other ambitions active (Brooke is nearing completion of a PhD, Steve just finished a 2nd degree, Matti has been playing all over Toronto in a variety of capacities, Bryan in nearing the end of a semester teaching, and Scot is...well doing all the stuff a Scot does). With an upcoming wedding in the summer and new challenges on the horizon, we want to give a heartfelt thank you for all the support we've received that continues to encourage us to keep the music coming. No matter how 'big' or 'small' we become, we gauge our success on the positive response our fans have given us, and on our own self-satisfaction in playing. It's been a great ride so far, and the train is still moving!

Cheers!
OMFG

---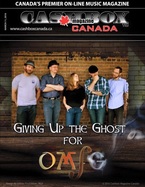 Mar 14, 2016
Some great announcements to make here! First off you can check out a great article on us from
Cashbox Canada here
! They even put us on the cover, awesome! Plus you can check out a Celtic Music Video Journal (#5) at
67music.net
that features us plus several other Celtic performers from around the world.
On a separate note, we had a great time kicking cancers ass at the Irish 4 a cure event held at the Everleigh in support of Kidney Cancer Canada this past weekend, and are getting revved up for St. Patrick's Day where you can catch us this year at
The Irish Times
in Pickering and The
Pogue Mahone
downtown Toronto.
Short and sweet today folk. Thanks for reading! Talk soon!
OMFG
---
Feb 08, 2016
Well, it's been a little while since we updated our news feed. We've been spending a bit of time over January and February working on some new songs in preparation for beginning work on a sophomore album, but with March fast approaching, which is every Celtic Band's favourite month, we thought we'd mention all the shows where you can catch us, as well as some dates where you can catch Steve and Brooke playing as the duo Celtic Sun. If you haven't checked their page out yet, head on over to
www.facebook.com/celticsunband
and give their page a like.
Sun Feb 21 - OMFG @ The Corner House Pub 3-5pm
Fri Mar 4 - Celtic Sun @ The Corner House Pub
8-11pm
Sat Mar 12 - OMFG @ Kidney Cancer Fundraiser 5-6pm
Sat Mar 12 - OMFG @ The Céilí Cottage 8:30-11:30pm
Sun Mar 13 - Celtic Sun @ The Céilí Cottage 4-7pm
Thurs Mar 17 - OMFG @ The Irish Times Pub - 1-6pm
Thurs Mar 17 - OMFG @ Pogue Mahone 10pm-2am
Sun Mar 20 - OMFG @ The Corner House 3-5pm
Sat May 14 - Celtic Sun @ Rosedale Mayfair (for kids) 12-2:30pm
Sat May 14 - OMFG @ Rosedale Mayfair (for all) 3:30-5:20pm
Sat May 21 - Celtic Sun @ The Green Dragon Pub 7-11pm
Sat/Sun Sept 10-11* - OMFG @ Beach Celtic Festival *date and set times TBA
We have really enjoyed having a full house and several musicians join us at our Celtic Kitchen Sessions at The Corner House Irish Pub. So keep track of those Sunday dates and bring an instrument to play along with us. All skill levels welcome.
We are very excited to be a part of IRISH FOR A CURE on March 12 in support of kicking Kidney Cancer's ass, and The Rosedale Mayfair, both of which we intend to play our hearts out in Fundraising support!
With a double header on Paddy's day and some great new venues for us to visit including the
Céilí
Cottage and Pogue Mahone, 2016 is looking pretty awesome so far. More dates are in the works and will be coming soon.
Cheers!
OMFG