December 16th, 2014
Greetings from Old Man Flanagan's Ghost!
With a super busy recording schedule during the Christmas season ahead, OMFG will be disappearing into the trenches until the New Year. Thanks so much for all the support through 2014, and hope you all have a happy holiday season with many 'sociables' (If you've been to our live show, you know what we're talking about). Swing over to our
YouTube
channel to see a couple of extra videos not posted here from The Stone Lion show if you have the chance.
Our first show of the new year will be on Jan 10th, 2015 at The Tara Inn Irish Pub at 2365 Kingston Rd. 8:30pm start.
Until then, we will leave you with a video of our original song 'May' below. It will be one of the originals on our upcoming album.
Cheers to you all!
OMFG
December 14th, 2014

Thank you Stone Lion, the 25+ freinds who showed up, and to the standing room only crowd of locals, pub crawlers, and complete strangers that helped make it a great night. Seemed like everyone had a fun night, we know we did. If we didn't have much of a chance to chat, please know it was appreciated that you came out to support us. See you in the new year!

OMFG

December 13, 2014

Greetings all. Just to clarify, sadly our show at the Tara Inn Irish Pub has been moved to Sat Jan 10th, 2015 at 8:30pm (as our live shows page has indicated for some time). However, our Celtic Christmas shall not be undone, as we will be playing at The Stone Lion Pub at 1958 Queen St East on Dec13th, 2014 at 9pm. This is a return for us to what was formerly the Lion on the Beach. It has undergone an amazing renovation and has been a busy weekend stomping ground with great live music. Come have a peek at this cool venue for our last show of 2014!

The 'Come into the kitchen' event that was postponed will be taking place April 18, 2015. More information on that will be posted in the new year.

We recently proposed a challenge to our FB followers to further get our name out there, and more importantly, our music. As our CD is slated to be released next year (tentatively March), as a thank you we will be providing some free song downloads to all our followers on FB. For every hundred followers we have on release, we will provide a free song download from our album. SO, if you haven't already, head on over and 'like' our FB page, invite your friends to do the same, and earn yourself and them some free merch by simply clicking a few buttons. Every hundred 'likes' = free songs for you & free songs for them, it's as easy as that. And YES, that means that everyone will already be receiving 2 free downloads already.

Thanks for all the support and hope to see you tonight!

Cheers!
OMFG

November 11, 2014

We truly dislike these long stretches between shows, and are really starting to see how our absolutely favorite part about being a band is playing for people. That being said, the album we are working on is well on it's way. There is lots left to do, but the initial tracks are sounding really cool, so our time away from shows is not being wasted.

There will be a lot of additions coming in 2015, when we celebrate just our 1st anniversary of the band's launch. With the creation of the CD we will be adding a music player to our website and hope to widen our fan base with new shows in some new areas of the city and beyond. (Barrie in January!)

Please join us for our return to The Irish Times Pub in Pickering on Saturday Nov 29th, 2014, 9pm at 1400 Bayly St. near the Pickering GO station. (Invite to follow)

Come ready to drink and be merry. We have a couple of new songs to fiddle away on, and have added more Tin Whistle to the mix. You will be happy you came! You may even get to see some cool step-dancing from our very own Brooke Richardson.

Cheers everyone!
OMFG

November 5, 2014

Greetings all! We have just been informed by the organizers that the "Come into the Kitchen" event is being postponed. Sorry for the inconvenience and to those of you we have spoken with personally or through social media that were planning to attend. We are equally disappointed, but will announce the make-up date when it becomes available.

Cheers!
OMFG

October 14th, 2014

We hope all our Canadian followers feel adequately bloated after this Thanksgiving weekend! OMFG is quite thankful for many things, not the least of which our friends, family and fans.

We had a great night at The Irish Times in Pickering on the 11th. Even though it was quiet due to the long weekend, we were happy to meet a few new people, some of which stuck around for the entire night to listen to some Celtic tunes. You were truly awesome! In fact, we were so nicely received, we have been invited back! We will be spending the next few weekends doing recordings, but have 2 shows coming up in November as follows.

The first on Nov 22, is the "Come Into the Kitchen" show we previously announced. A ticketed dinner and show event featuring several of the performers from the Beach Celtic Festival. Details can be found on our website or on the photo flyer located below.

The 2nd show, is back at The Irish Times in PICKERING on Saturday Nov 29th, 9pm start. 1400 Bayly Street. F.Y.I. This pub is handily located directly beside the Pickering GO TRAIN station for those who really enjoy their drink!

Both shows will be great fun so come on out and share in some good times with Old Man Flanagan's Ghost!

That's all folks!

CHEERS!
OMFG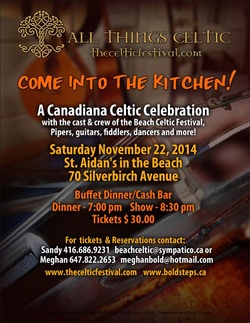 Greetings all! We wanted to send everyone a quick update on upcoming shows!

On Saturday, October 11th, you can catch us at the Irish Times Pub in Pickering at 9pm.

**JUST ANNOUNCED** on Sat Nov 22, OMFG will be participating in the 'Come into the Kitchen' event (see image for details and ticket information).

On Dec 13, at 8:30pm we will be playing at The Tara Inn Irish Pub located on Kingston Rd near Midland Ave in Scarborough. Come on out and celebrate the festive season Celtic Style!

Hope to see you at one or more of the final shows of 2014!

Cheers!
OMFG

---
September 10th, 2014
Thanks to the new fans that have joined us, after our visit to the BEACH CELTIC FESTIVAL, we have surpassed the 200 mark in 'likes' on Facebook!
Thanks to Sandy Graham and Meghan Bold for letting us be such a big part of this year's festival. We eagerly anticipate returning for many years to come!!! **hint hint, nudge nudge**
That being said, keep your eyes peeled to our upcoming shows, as we are very likely going to be adding a few extra dates pre-2015. If you're wondering why it's looking a little barren, it's mostly to do with our commencement of studio recording our first CD, which we will, of course, keep you all posted as to when it will be released back 'into the crashing tides of the endless sea from whence it came'... er... to itunes or whatever. On that note, to the many people that asked for a CD at the festival, we apologize that we could not supply you with one, but soon... soon.
We are also getting our hands on new video from the festival and our most recent Feathers Pub visit, which we will post for you to view at your leisure. If anyone that attended the festival has some video of us, we would love to see it. Please message us through the
Contact Us
page.
We are super excited as to where 2015 will take us! The positive vibes, wonderful comments and encouragement, and CRAZY LOUD APPLAUSE has us setting our sights ever further to where we think this band can go!
CHEERS!
Sincerely,
Bryan, Matti, Scot, Brooke, Steve
OMFG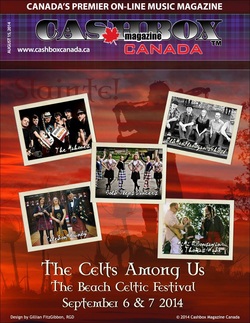 ---
August 10th, 2014
Come out and listen to members of Old Man Flanagan's Ghost while raising money for childcare advocacy in Canada!
Advocates for progessive Childcare Policy (
http://www.childcareadvocates.ca/
) is raising money to send leaders in Canadian childcare advocacy to a conference in Winnipeg. The goal of the conference is to kick off childcare advocacy efforts for the 2015 federal election. Childcare policy has faded from the national political agenda and it is ACPC's goal to get back on the table. Children, families, mothers, fathers and early childhood educators deserve better!
Find us along the boardwalk south of Kew Park in the beaches.
***RAIN DATE AUG 17, 2pm***
August 1st, 2014
All Things Celtic - Fundraiser for the Beaches Celtic Festival
Thursday, August 7
at 6:00pm
Murphy's Law Irish Pub - Toronto
1702 Queen St. E, Toronto, Ontario M4L 1G6
Doors open at 6pm with live entertainment starting at 7:30
$10 cover at the door - $5 for kids
Live entertainment by Old Man Flanagan's Ghost, Bold Step Dance Studio - Scottish Highland and Canadian Step Dancing, Don Graham, fiddles, pipes, GAMES, RAFFLE, PRIZES TO BE WON!
The Celtic Festival is a free event, trying to raise money to help support the cost of permits, licenses and other issues that need to be paid for.
July 18th, 2014
Greetings friends! Hope everyone out there in internet land is enjoying the summer, frolicking, drinking, a..n..d drinking some more, as Scot would say.
We bring some sad tidings, in that our founding member and bassist, Andrew Van-Nest, has decided to part ways with the band for reasons of a personal nature. We wish him all the best on whatever road he finds himself on. Cheers good buddy!
That being said, we also bring tidings of great joy! For in Andrew's stead we have found a new permanent bassist in the form of Luthier, Matti Palonen. Wait till you see this man play a double bass! Matti is a quick study and extremely excited to become a member of the OMFG family.
Now we know we said we were taking the summer off a tad, but that was before we found out about a show coming up on Aug 7th that OMFG will be participating in. We will be creating an invite in the next week with all the juicy details, and we certainly hope to see you out at
Murphy's Law
for what will be a fund raising event for the Beach Celtic Festival. So come on out and get a sneak peek before the festival of Matti and his impressive unit, er, his massive equipment, I mean his upright, I mean.... ah just come out and see the band you dirty-minded bas*****!
Cheers!
OMFG
June 9th, 2014
Greetings all! Come on out this
Saturday July 12th
at
9:30pm
for our last show of the summer at
Timothy's Pub
at 344 Brown's Line in Etobicoke. It will be a great time with good music and cold beer.
Last show of the summer???? But why?
Well aside from spending some time with our families (and young'uns), we have a full schedule on our plate getting some new photos done, working on new material, pounding the pavement spreading the OMFG word, and finalizing some details for Old Man Flanagan's Ghost return to the studio!
We are slated to get the ball rolling on our first full length CD, taking many of the original tunes we play in our shows, plus a few we've kept in our back pocket, and creating a Celtic folk offering unlike anything you've heard before. This ambitious project will take us well into the new year, however we already have a good fall show schedule lined up (including a return to the festival stage), and are always adding new dates which will make for a great end to our inaugural year. We will be posting that fall schedule soon!
We have come a long way as a band this year, have strengthened our stage legs, learned to cope with little adversities, and in 2015, will emerge we think as a serious Celtic force on the Toronto music scene. From there...the sky is the limit!
Hope to see you at Timothy's!
Cheers, and as always, thanks for listening.
OMFG
June 9th, 2014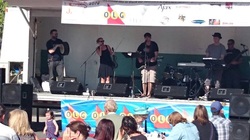 Thank you to the many people that joined us for some great weather, food, music, and of course...beers at The Pickering Village Jam Fest. We will most certainly be returning next year for more fiddling fun.
---
May 9th, 2014
Greetings all! A link to the website for the
Pickering Jam Festival
is included below, where on
June 7th
OMFG will take the stage at
5pm
for a 45min Celtic attack on an unsuspecting audience, (well, except for those of you who have heard us before and that join in the festivities that day). As you will see from the website, there is an abundance of music, food, drink and fun so we strongly encourage you to check it out and enjoy the day before, during, and after our set.
45 min not long enough?
Not able to make it out for 5pm to see us?
Fear not! OMFG will be taking the stage the same night at
9pm
at
The Feathers Pub
for a full four sets worth of music and debauchery.
Come out and see us and be prepared to drink and be merry!
http://pickeringvillagejamfest.ca/
SOCIABLE!
OMFG
April 28th, 2014

Talk about a fantastic night! Are you kidding me? One of the smallest venues turned into one of the greatest nights (perhaps that's the norm). Anyway, matinee show turned beer fest is the only way to describe it.

Cheers to the many friends and fans that showed up, and to the amazing people that walked in off the street or that frequent The Fade In Cafe, that sang and danced and cheered and clapped, bought OMFG shirts, shook hands, asked for encores and that made the night one of the best shows we have played yet! Wow!

Hope to see some of our new friends at future shows! Cheers to you all!

I'll end with this one word...SOCIABLE!!!!!!

April 24th, 2014

Hello all!

We have a couple of OMFG announcements to make.

First off, we will be playing a matinee show this Saturday in the Toronto beaches area at the Fade In Cafe at 5:30pm. Hope to see a few familiar faces there!

Secondly, we are pleased to announce our participation in the Pickering Jam Festival, a multi-day art and music festival. We will post all the event details soon, but what I do know is we will be performing on the main stage on Saturday, June 7th in the afternoon. Exact time will be posted soon.

Lastly, as you may have noticed our website has had an overhaul. Hope you all enjoy the new look!

We have a lot on the go right now to make Old Man Flanagan's Ghost bigger and better than ever, so stay tuned for some big announcements in the not too distant future.

Cheers!
OMFG